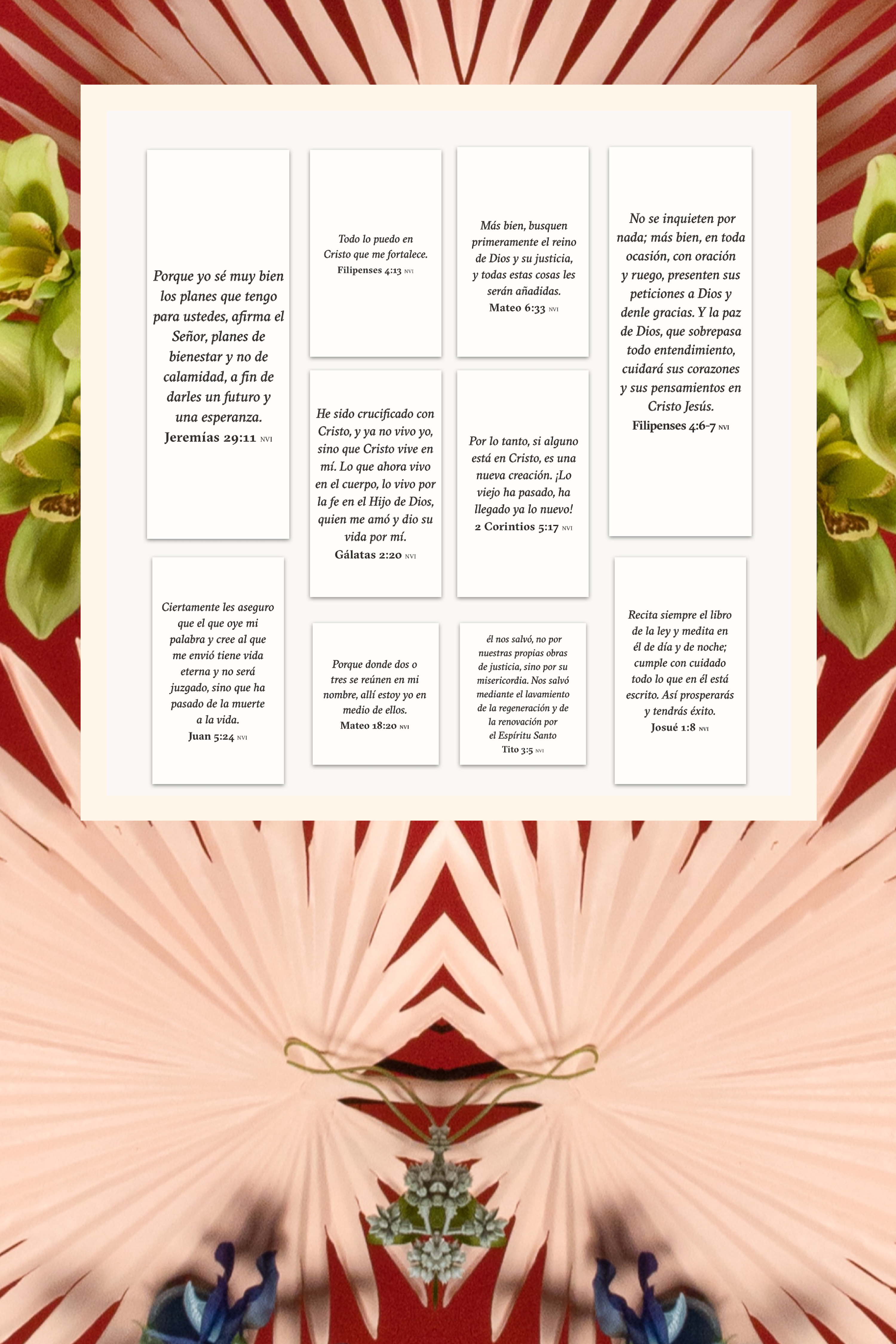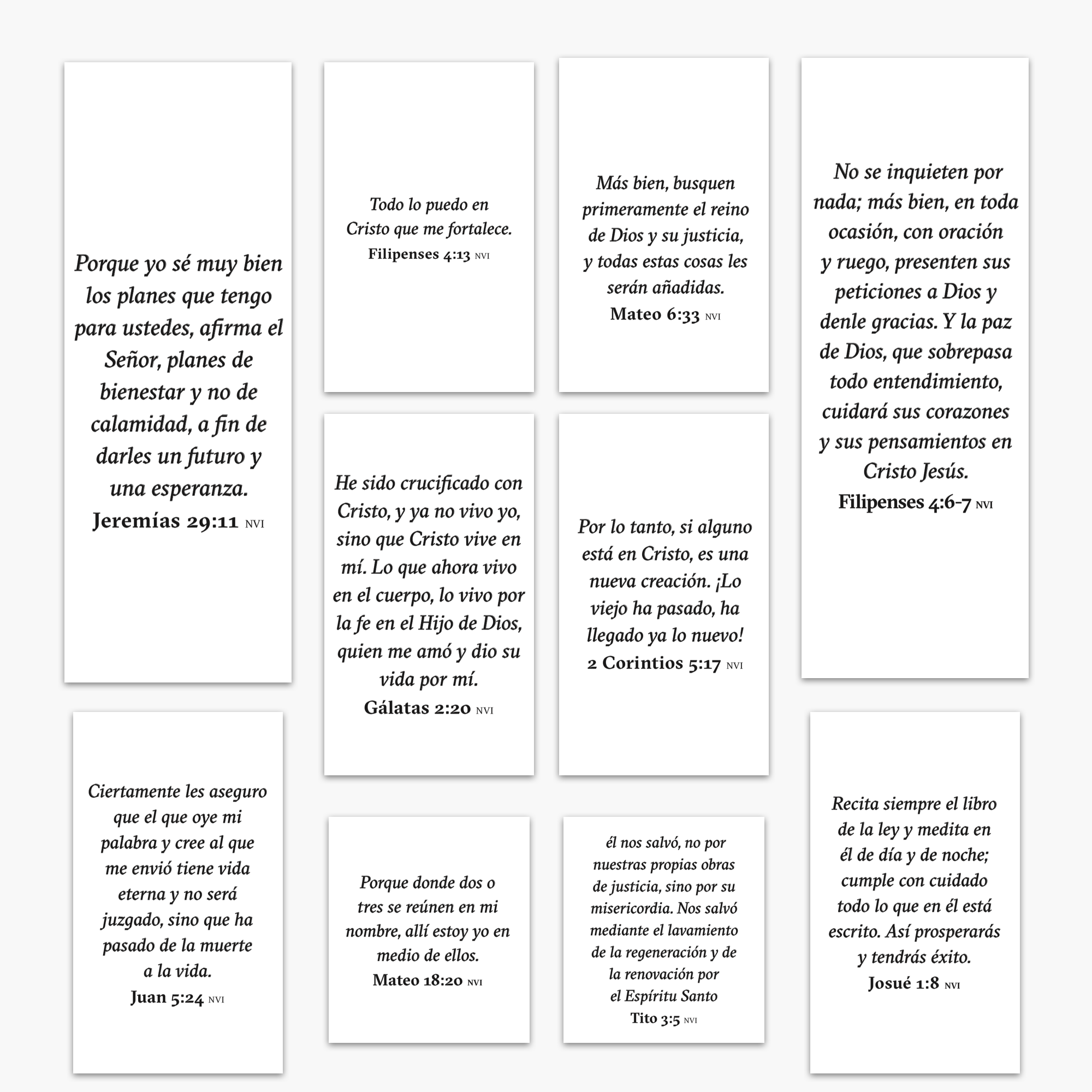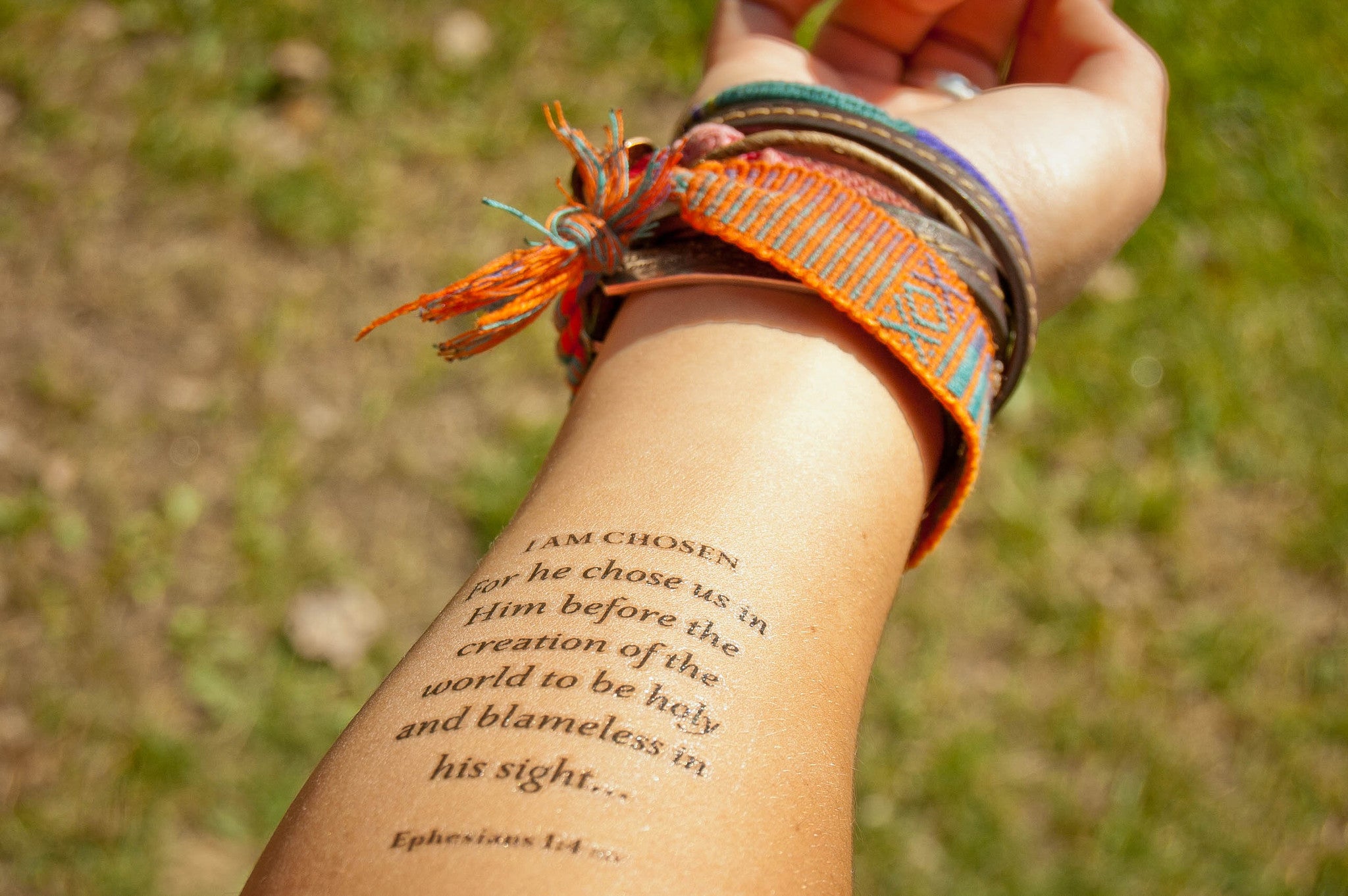 Spanish Pack (Paquete en Español) - Pack of 10
Sale price
$32.99 USD
Regular price
$13.99 USD
(/)
---
Looking to learn some Scriptures in another language or visiting a Spanish speaking country or community and want to bring a special gift? Check out our Spanish pack. It has 10 essential Scriptures for memorization.

Armed with Truth te provee con recordatorios creativos de la palabra, verdad y promesas de Dios para inspiración, memorización y conversación para conducirte a una más profunda con Jesús. Usa los momentos del dia a dia para recordarte a ti mismo la verdad que da vida que se encuentra en las Escrituras.

10 versículos esenciales de la Biblia para memorización 

The List:

Josué 1:8
Recita siempre el libro de la ley y medita en él de día y de noche; cumple con cuidado todo lo que en él está escrito. Así prosperarás y tendrás éxito.
Filipenses 4:6-7
No se inquieten por nada; más bien, en toda ocasión, con oración y ruego, presenten sus peticiones a Dios y denle gracias. Y la paz de Dios, que sobrepasa todo entendimiento, cuidará sus corazones y sus pensamientos en Cristo Jesús.
Mateo 18:20
Porque donde dos o tres se reúnen en mi nombre, allí estoy yo en medio de ellos.
Juan 5:24
Ciertamente les aseguro que el que oye mi palabra y cree al que me envió tiene vida eterna y no será juzgado, sino que ha pasado de la muerte a la vida.
Tito 3:5
él nos salvó, no por nuestras propias obras de justicia, sino por su misericordia. Nos salvó mediante el lavamiento de la regeneración y de la renovación por el Espíritu Santo
Gálatas 2:20
He sido crucificado con Cristo, y ya no vivo yo, sino que Cristo vive en mí. Lo que ahora vivo en el cuerpo, lo vivo por la fe en el Hijo de Dios, quien me amó y dio su vida por mí.
2 Corintios 5:17
Por lo tanto, si alguno está en Cristo, es una nueva creación. ¡Lo viejo ha pasado, ha llegado ya lo nuevo!
Filipenses 4:13
Todo lo puedo en Cristo que me fortalece.
Mateo 6:33
Más bien, busquen primeramente el reino de Dios y su justicia, y todas estas cosas les serán añadidas.
Jeremías 29:11
Porque yo sé muy bien los planes que tengo para ustedes, afirma el Señor, planes de bienestar y no de calamidad, a fin de darles un futuro y una esperanza.

This verse pack come with 10 different tattoos containing Scripture-based around a certain topic. Each tattoo will continue to look good for about 3 days before you should scrub it off and apply the next one. By the end of the month, you will have 10 new truths memorized.

La Santa Biblia, Nueva Versión Internacional® NVI®
Copyright © 1999 by Biblica, Inc.®
Used by permission. All rights reserved worldwide.
SHIPPING AND RETURNS

At Armed With Truth, we're committed to delivering our products to you swiftly and efficiently. We offer free delivery across the USA for orders over $35. Our products are carefully assembled by our local associates and shipped to you via our trusted drop shipper. We stand by the quality of our products. However, if you're not completely satisfied with your purchase, we're here to help. You can return your items within 30 days of receiving your order. Please note that to be eligible for a return, your item must be unused and in the same condition that you received it. Once we receive your item, we will inspect it and notify you on the status of your refund. If your return is approved, we will initiate a refund to your original method of payment. We value your faith, your trust, and your business. If you have any questions or concerns about your order, don't hesitate to reach out to our exceptional customer support team.
HOW TO APPLY

Apply Tattoo: Clean the desired area of your skin with mild soap and water, and pat it dry. Remove the plastic film from the tattoo and place it face down on your skin.

Soak with Water: Dampen a sponge or cloth and gently press it against the back of the tattoo paper. Hold it in place for about 30 seconds to 1 minute, allowing the water to activate the adhesive.

Slide Backing Off: Slowly and carefully slide the backing paper off the tattoo, starting from one corner or edge. Ensure the tattoo sticks to your skin without getting damaged.

Post Care: Pat the tattooed area with a dry cloth or paper towel to remove excess water. Avoid touching or rubbing the tattoo initially. Let it air dry completely before covering the area. Avoid applying lotions, oils, or sunscreen directly over the tattoo. Minimize exposure to water, especially hot water and excessive sweating. Optionally, you can apply a thin layer of clear hairspray or a temporary tattoo sealer to extend its lifespan.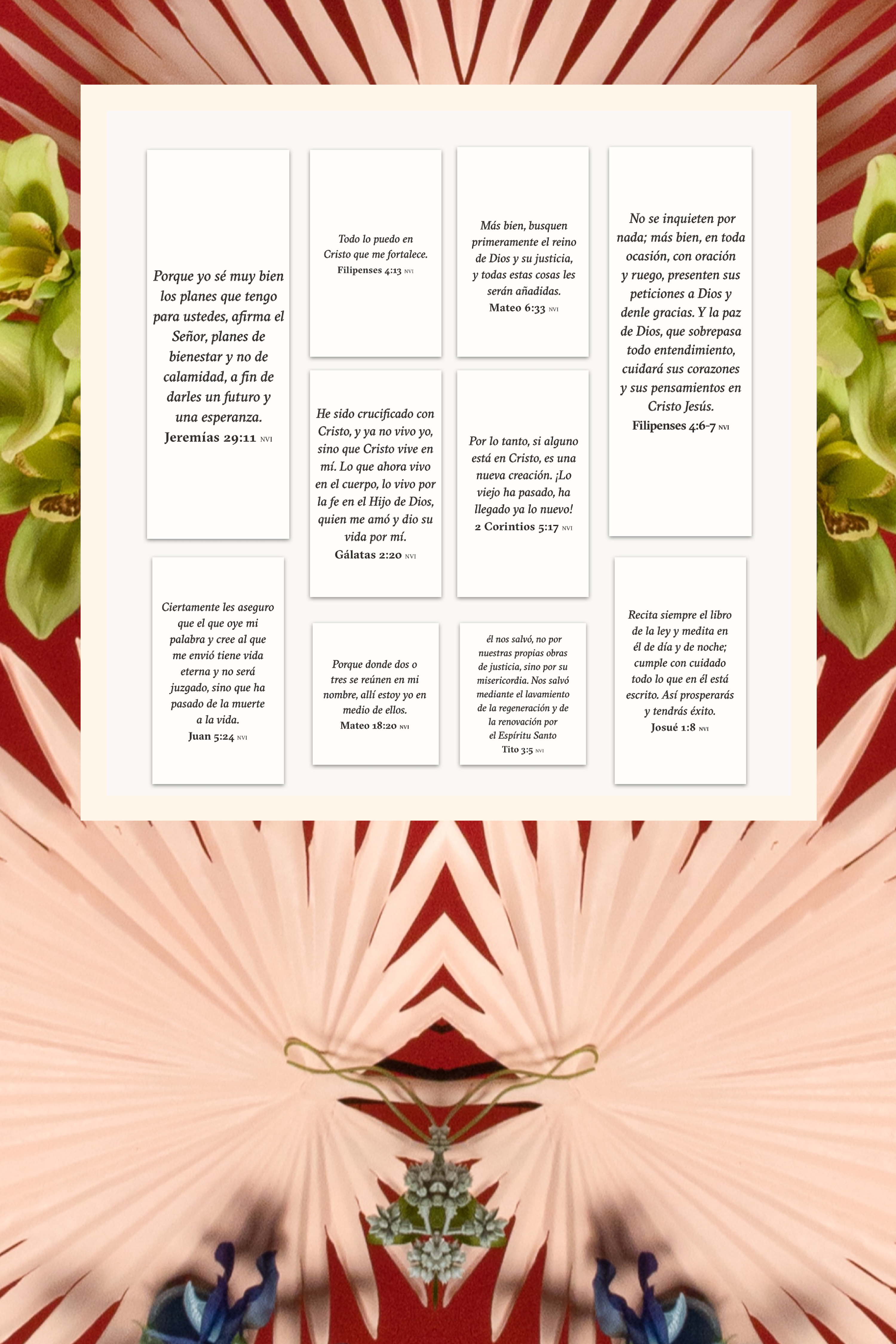 Spanish Pack (Paquete en Español) - Pack of 10
Sale price
$32.99 USD
Regular price
$13.99 USD
Choose options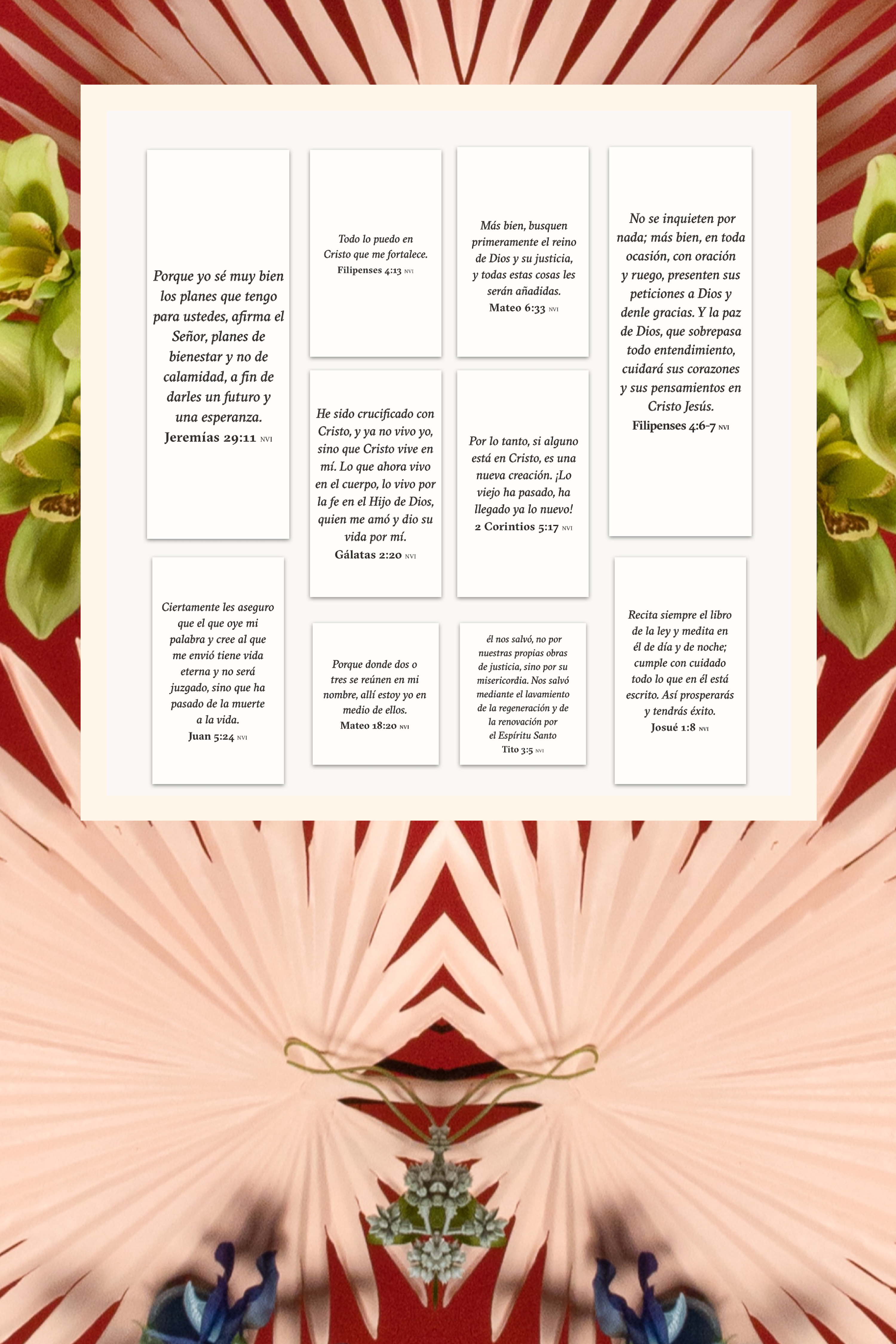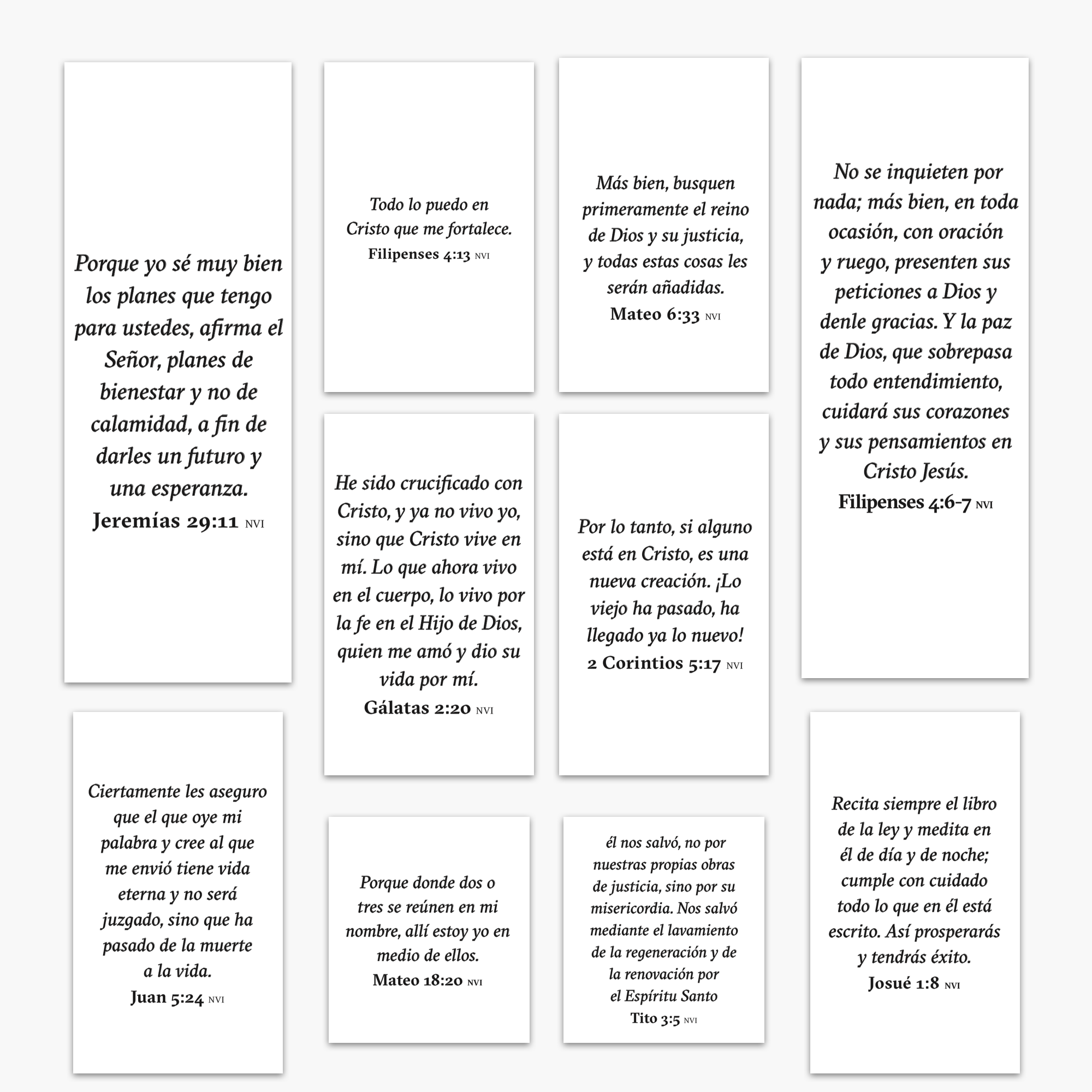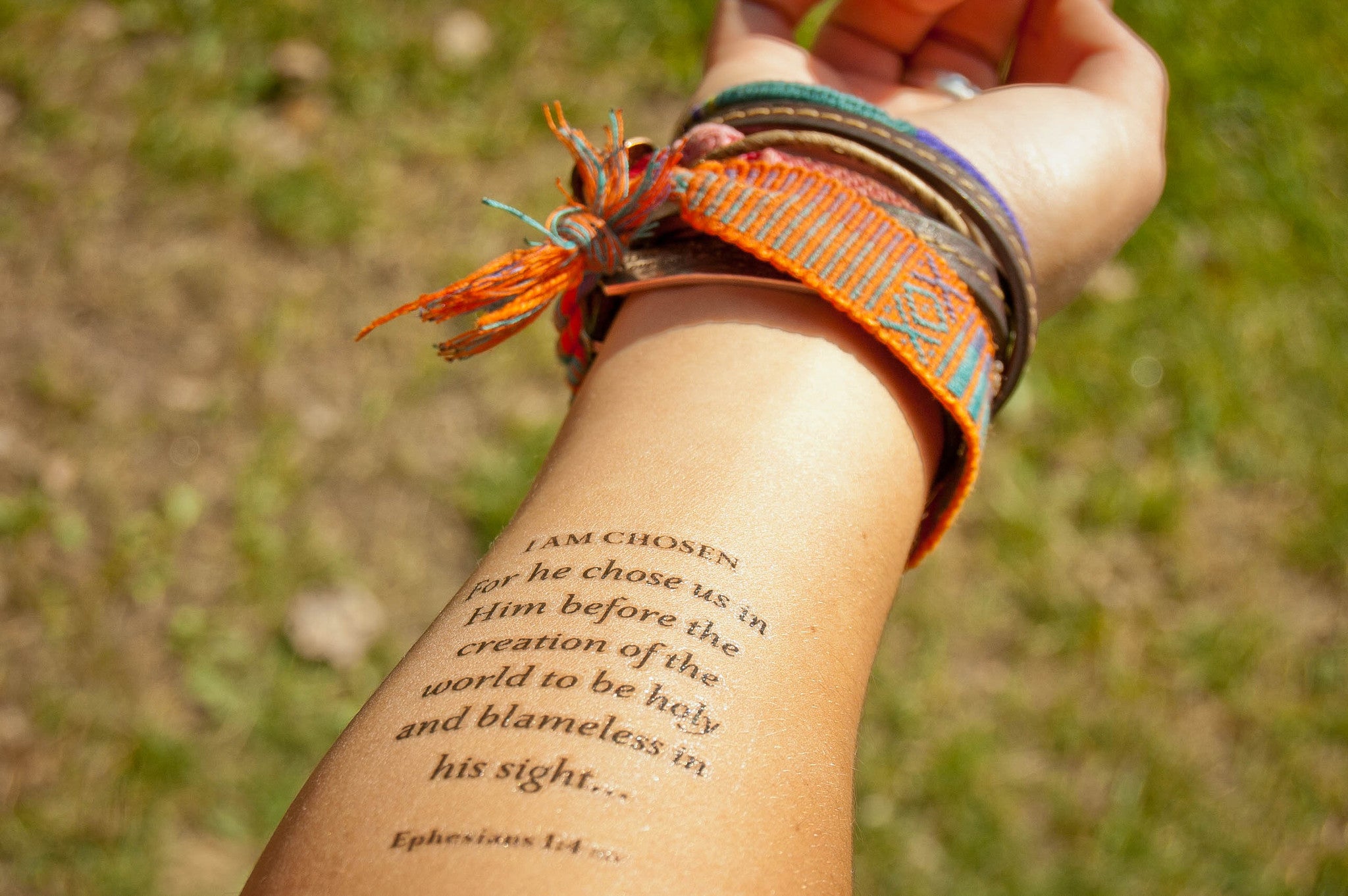 Sale price
$32.99 USD
Regular price
$13.99 USD
(/)
---
View details
Need help?
Frequently Asked Questions
If you wish to remove an "Armed with Truth" tattoo before its 3-day duration, you can attempt the following methods: utilizing rubbing alcohol, baby or olive oil, tape, or a makeup remover to eliminate the tattoo.
Armed With Truth temporary tattoos are safe and adhere to the guidelines set by the FDA. These tattoos are press-on decal/water transfer tattoos. The FDA mandates that decal-type tattoos only use pigments approved for cosmetic use, ensuring they are non-toxic and non-allergenic. The ingredients used in these tattoos include vinyl acrylate copolymer, titanium dioxide (CI 77891), yellow 5 (CI 19140), iron oxides (CI 77499), blue 1 (CI 42090), and red 7 (CI 15850).
Armed With Truth currently offers shipping services exclusively within the United States.
To maintain the freshness and vibrancy of a temporary tattoo:

    1. Handle the tattoo with care, avoiding rubbing or scratching the design to prevent smudging or fading.
    2. Keep the tattooed area clean and dry, avoiding excessive moisture and using mild soap for gentle cleaning.
    3. Protect the tattoo from water exposure, especially during bathing or swimming, as prolonged contact can cause premature fading or peeling.
    4. Shield the tattoo from direct sunlight to prevent accelerated fading, or apply a high SPF sunscreen for added protection.